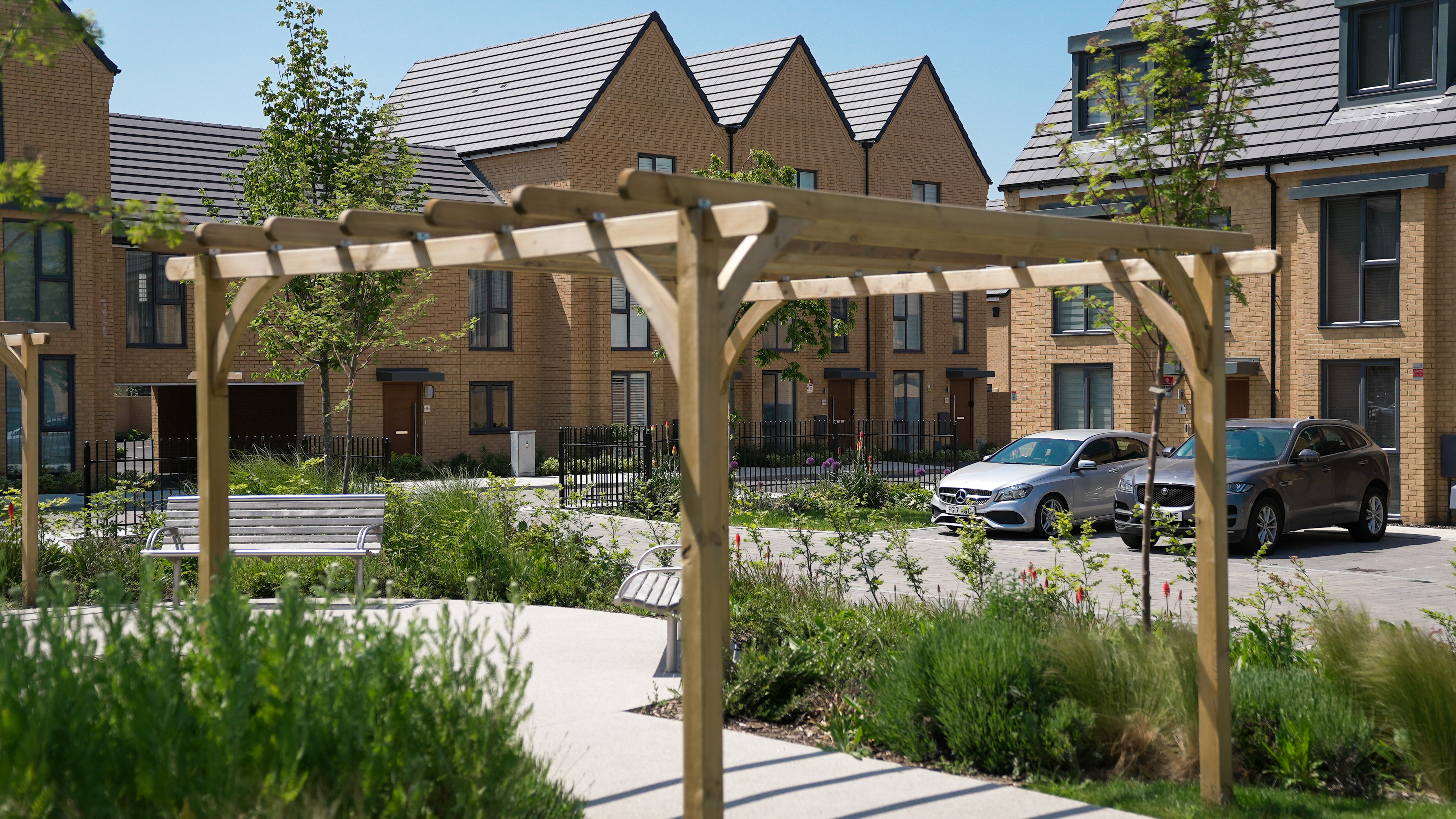 Planning & Design
Ebbsfleet Development Corporation was established in 2015 to drive forward ambitions for regeneration in Ebbsfleet, through the scheme known as Ebbsfleet Garden City. Planning powers were transferred from Kent County Council, Dartford Borough Council and Gravesham Borough Council to support regeneration in the area. Whilst the plan making role remains with the Local Authorities, Ebbsfleet Development Corporation are the decision-making authority and are responsible for assessing and determining the majority of planning applications submitted for land within the area, known as the 'urban development area'.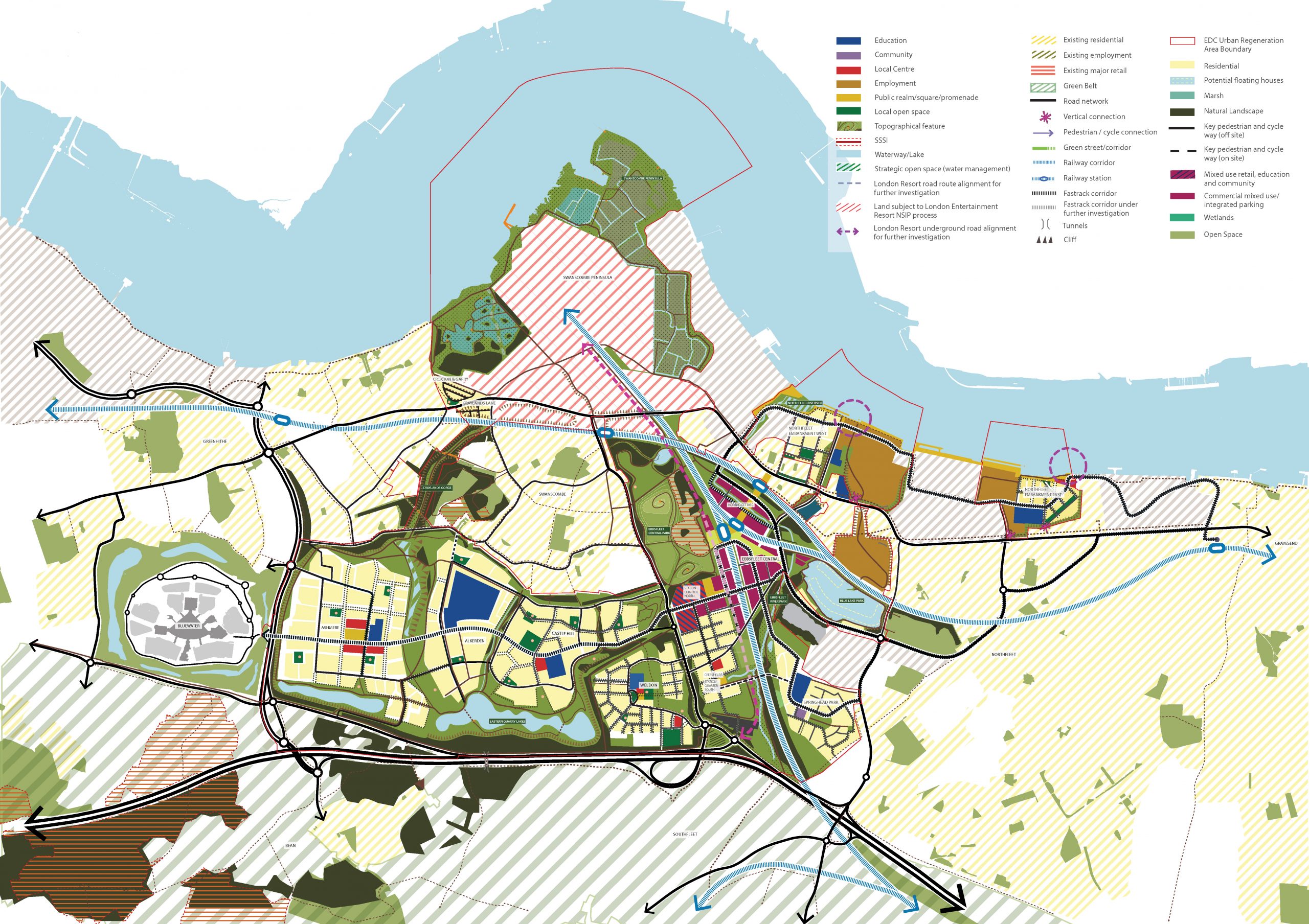 Overview
As Local Planning Authority for the Ebbsfleet Urban Development Area (Ebbsfleet Garden City), Ebbsfleet Development Corporation seeks to work proactively and collaboratively with applicants and encourage early engagement and communication regarding proposals at every stage of the planning process.
Ebbsfleet Development Corporation determines a number of applications, ranging from full planning permission, variation to existing planning permissions (s.73), discharge of planning conditions, and advertisement consent. However, this list is not exhaustive, and there several planning matters that are dealt with by the Local Authority to determine, such as Lawful Development Certifications, High Hedges Legislation and Applications under the Channel Tunnel Rail Link Act 1996.
If you have any questions as to whether you should submit an application via Ebbsfleet Development Corporation or your local authority, please get in touch with the team.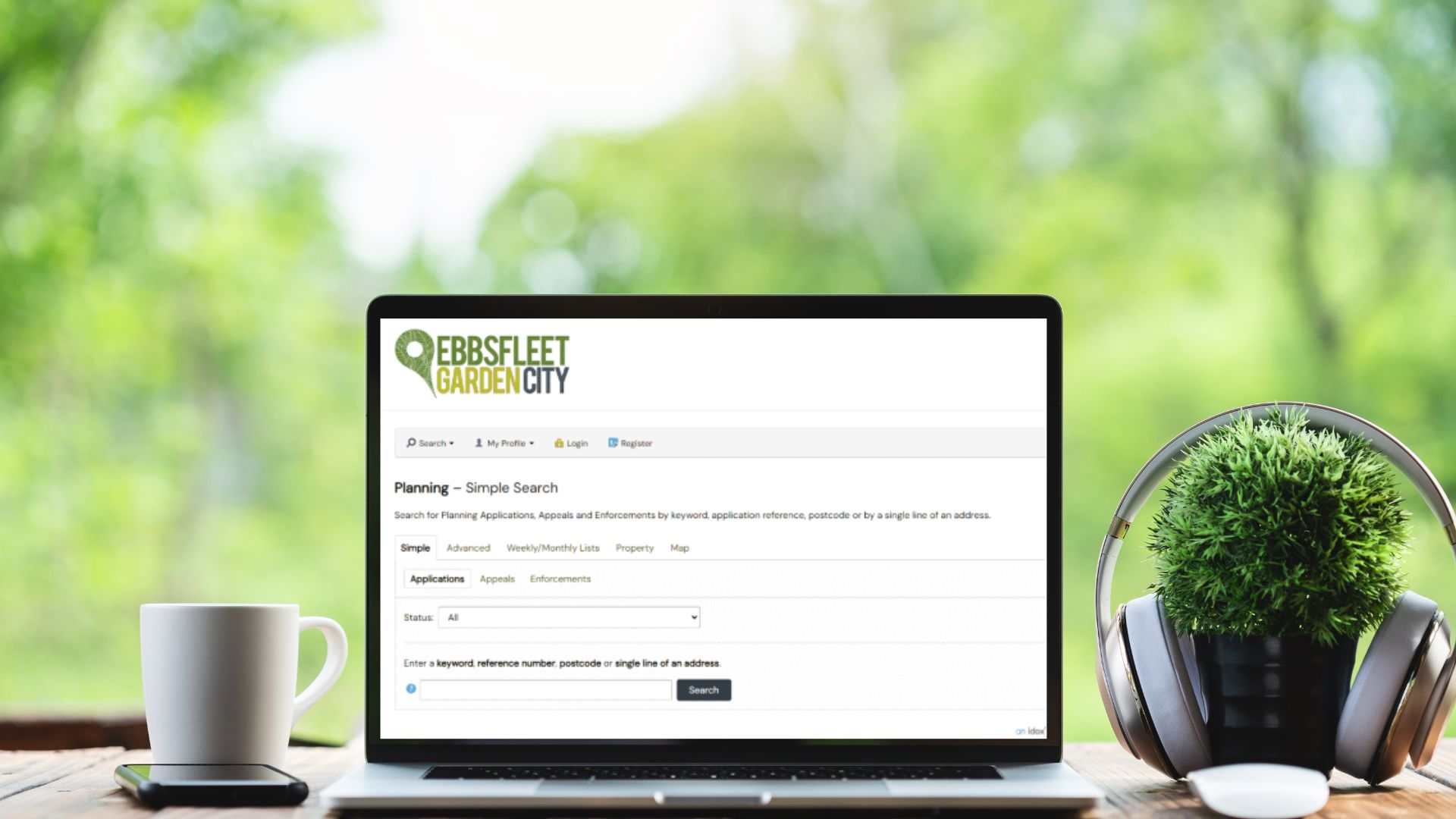 Search or comment on a planning application
You can search for planning applications to see:
the full details of applications
restrictions in place
attached documents, such as drawings
Commenting on a planning application:
All representations sent to Ebbsfleet Development Corporation in relation to a planning application is public information, including comments made by statutory consultees or neighbours.
If you make a representation your comments will be available for public inspection on the internet and by law must be available for anyone to inspect. This includes publishing any comments on our Public Access pages, so please note your correspondence cannot be kept confidential. However, your comments are reviewed and personal information such as your signature, email address or telephone number will be removed.
Pre-Application

Before submitting a planning application, the local planning authority can provide informal advice on a development proposed based upon the information and documentation provided with the enquiry.

Pre-application engagement is a highly valuable tool that offers significant opportunities to improve the quality of a scheme and efficiency of the planning application process, ease the understanding of planning considerations, and reduce the likelihood of an application being refused. The Corporation encourages engagement in pre-application discussions for any proposal within its boundary.

Download the Pre-Application Advice Form

Policy & Guidance

As local Planning Authority, Ebbsfleet Development Corporation have a statutory duty to determine planning applications in accordance with the adopted development plan. The adopted development plans for the local authorities can be found:

• Dartford Borough Council
• Gravesham Borough Council
• Kent County Council

Design is one aspect of the pre-application process and forms an important aspect when assessing applications. From neighbourhoods, buildings, streets, parks and open spaces, the Design for Ebbsfleet website provides design guidance that should be used to inform all planning applications within Ebbsfleet.

This includes guidance on the design of buildings, streets/public spaces and preferred approaches to sustainable travel and parking.

Visit the Design for Ebbsfleet website

The Ebbsfleet Design Forum

The Ebbsfleet Design Forum was established in 2019 to help deliver exemplary design quality across Ebbsfleet. The Forum is an independent review panel comprised of 25 professional members, managed by Frame Projects. The Forum supports Ebbsfleet Development Corporation's officers and planning committee in securing high-quality development and the creation of exceptional places. All significant projects being submitted for planning approval are expected to be reviewed by the Ebbsfleet Design Forum at least once, including all significant EDC projects.

The Forum promotes an open and discursive review model based on round table discussion between members, scheme promoters, their design team and the Corporation's planning team. Large scale or complex projects are encouraged to seek a Design Forum.

Request a Design Forum

Make An Application

Planning applications can be submitted electronically through the Planning Portal or in paper format.

Ebbsfleet Development Corporation requests that applications are submitted electronically where possible. If paper submissions are necessary, then application forms can be found on the Planning Portal to download and complete. It is necessary to ensure the applicable planning fee has been paid before an application can be validated.

Planning application fees can be paid via the Planning Portal, by BACS or by cheque made payable to 'Ebbsfleet Development Corporation'.
Please contact the Planning Team for payment details if using BACS: edcplanning@ebbsfleetdc.org.uk or telephone 0303 444 8832

Validation Requirement

Before submitting an application, please review the Validation Checklist which provides guidance in respect of the type of information required to accompany a planning application. It is necessary to have the relevant information to determine applications and minimise the need for further submissions to avoid delays to decision making. If submitting an application pursuant to an outline planning permission, please ensure you review any specific additional requirements established by that previous decision.

Please note Dartford and Gravesham Borough Councils are still responsible for determining the following types of application and matters.

Planning Committee

The function of the Ebbsfleet Development Corporation's Planning Committee is to consider planning applications within the Corporation's development area. The committee comprises Ebbsfleet Development Corporation board members, local authority representatives and independent members. The current members of the committee are:

Neil Cameron KC – Chair
Valerie Owen OBE – Vice Chair
Fred Maroudas
Rev Penny Marsh

Cllr David Mote

Planning Enforcement

Planning enforcement is the investigation of alleged breaches of planning control and, where a breach of planning control is identified, the aim is to resolve these using the most appropriate action. Ebbsfleet Development Corporation is responsible for enforcing control for all planning enforcement matters. Ebbsfleet Development Corporation's Planning Enforcement Team deals with any alleged planning breach reported to them. This includes complaints about developments taking place without planning permission or building works and change of use of land or buildings.

To report a breach, you must provide:

the address of the breach
type of breach such as erection of a building or structure, advertisement or change of use
your name and address – anonymous complaints will not be investigated.
a detailed description of the breach

Details of who is reporting a breach are kept confidential.
Important Documents
Validation Checklist

Before submitting an application, please review the Validation Checklist which provides guidance in respect of the type of information required to accompany a planning application. It is necessary to have the relevant information to determine applications and minimise the need for further submissions to avoid delays to decision making.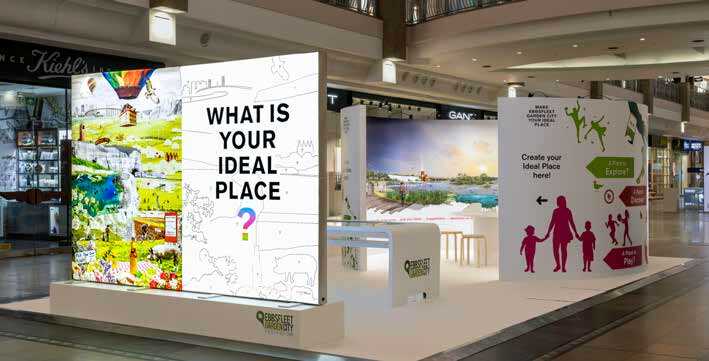 Planning Committee Dates & Papers
Meeting agendas can generally be viewed on this website five working days before the meeting takes place. Minutes of the decisions taken at the meeting will also be available on the website once they have been agreed.
All meetings will start at 7pm unless otherwise stated.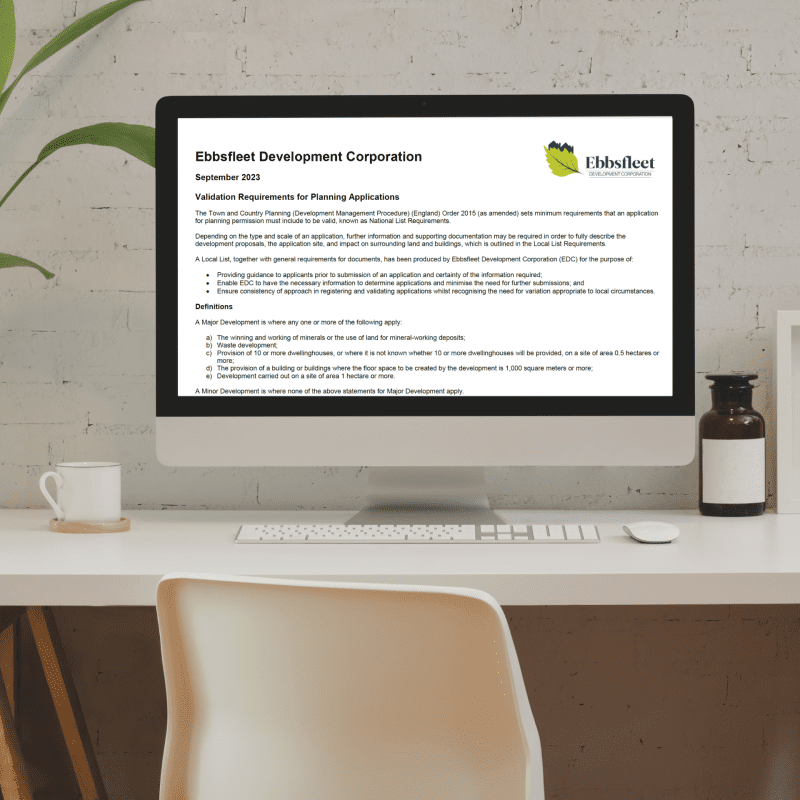 Ebbsfleet Development Corporation Validation Requirements for Planning Applications 2023
Ebbsfleet Development Corporation is consulting on proposed revisions to the Validation Requirements for Planning Applications document.  When approved, the revised requirements will apply to all planning applications submitted to Ebbsfleet Development Corporation within the urban development boundary and will set out the information which is to be required in support of planning applications.
The Corporation has carried out a review and propose some revisions to:
The content and format of the document
Minor revisions to update references to legislation
Revisions to updated or changed to Local Plan policies
The Corporation has contacted recent applicants, agents and statutory consultees to consult on the draft document.
Download the existing Validation Requirement for Planning Applications document.
Download the proposed document with changes to review.
How to comment:
The consultation period is for six weeks from 25th September 2023 until 6th November 2023.
Please send your comments in writing by email to EDCplanning@ebbsfleetdc.org.uk or by post to:
FAO Local Planning Authority
Ebbsfleet Development Corporation
The Observatory
Castle Hill Drive
Kent DA10 1EE
Please ensure that all comments arrive by 5pm on 6th November 2023.