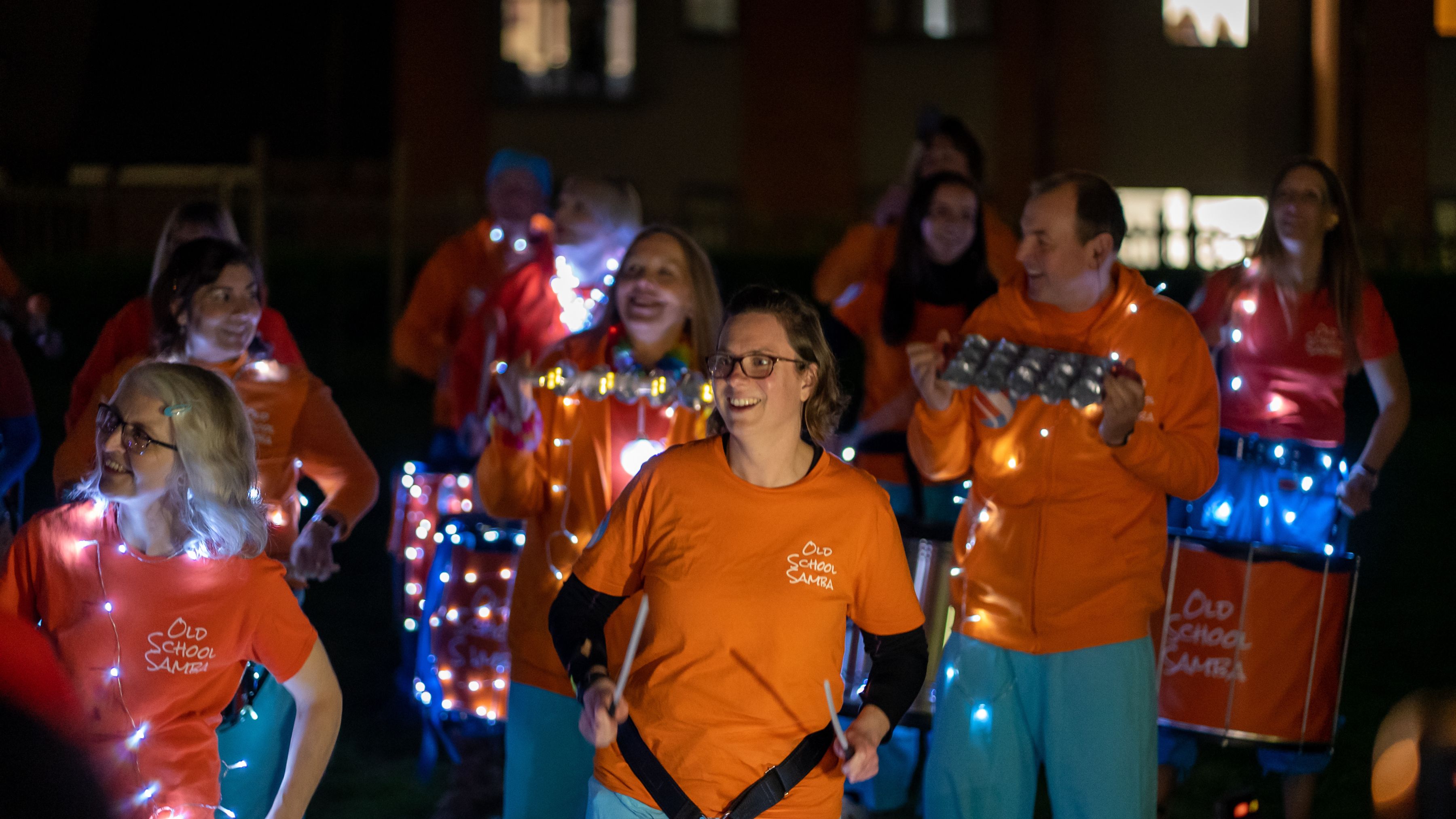 Culture & Creativity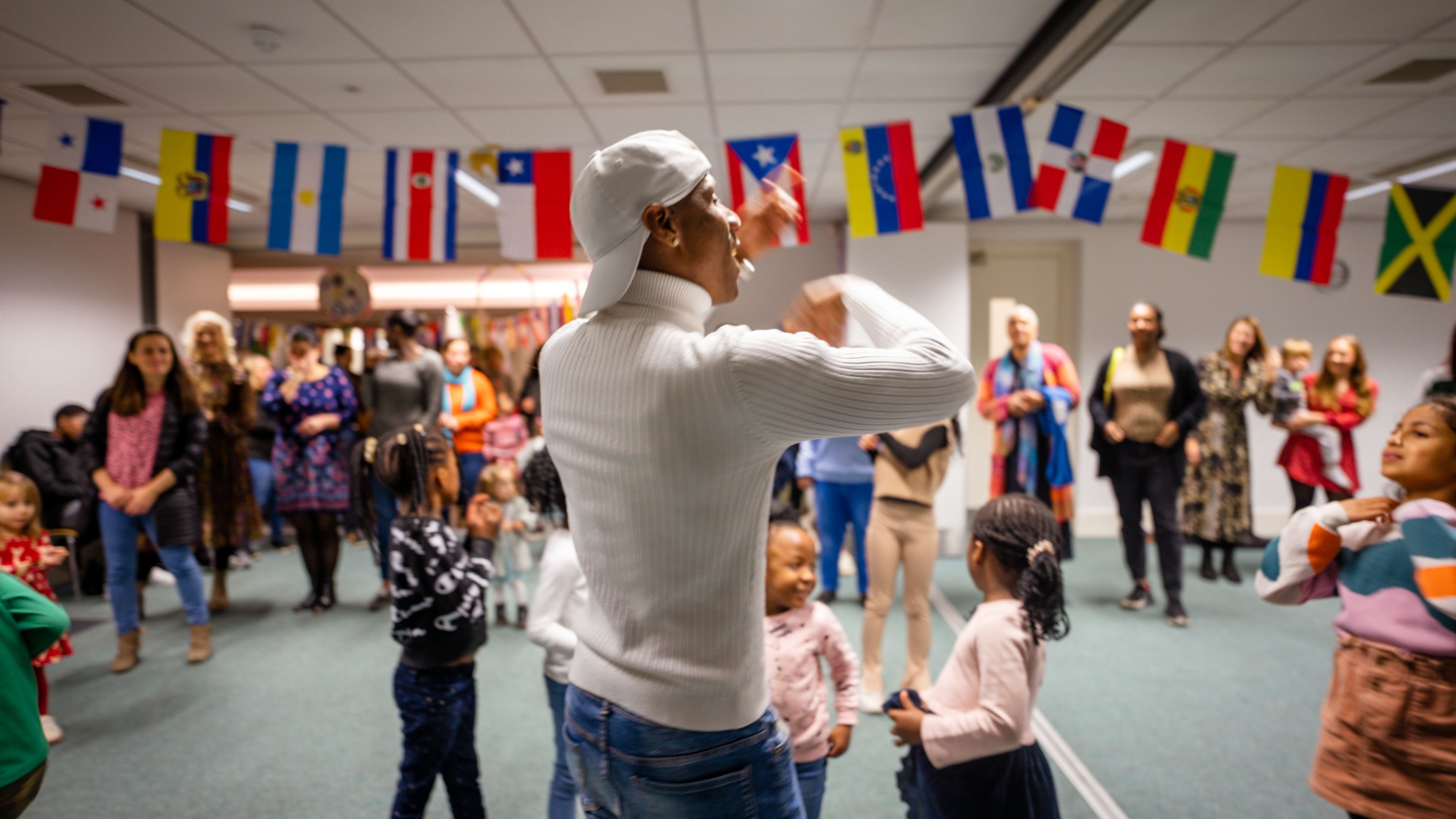 Culture & Creativity in Ebbsfleet
Culture and Creativity plays an important role in making Ebbsfleet a great place to live. That's why, since 2018, Ebbsfleet Development Corporation and partners have invested in programmes and initiatives to bring creativity to Ebbsfleet.
Ebbsfleet Development Corporation has been working with local residents, community groups and artists to devise and deliver a range of exciting events and projects that help people to be creative, learn new skills, meet new people, support their wellbeing and have fun.
Ebbsfleet Development Corporation has ambitious plans for the delivery of high quality, sustainable community buildings, workspace and outdoor spaces that reflect the needs and demands of the community and allow everyone to participate in creativity.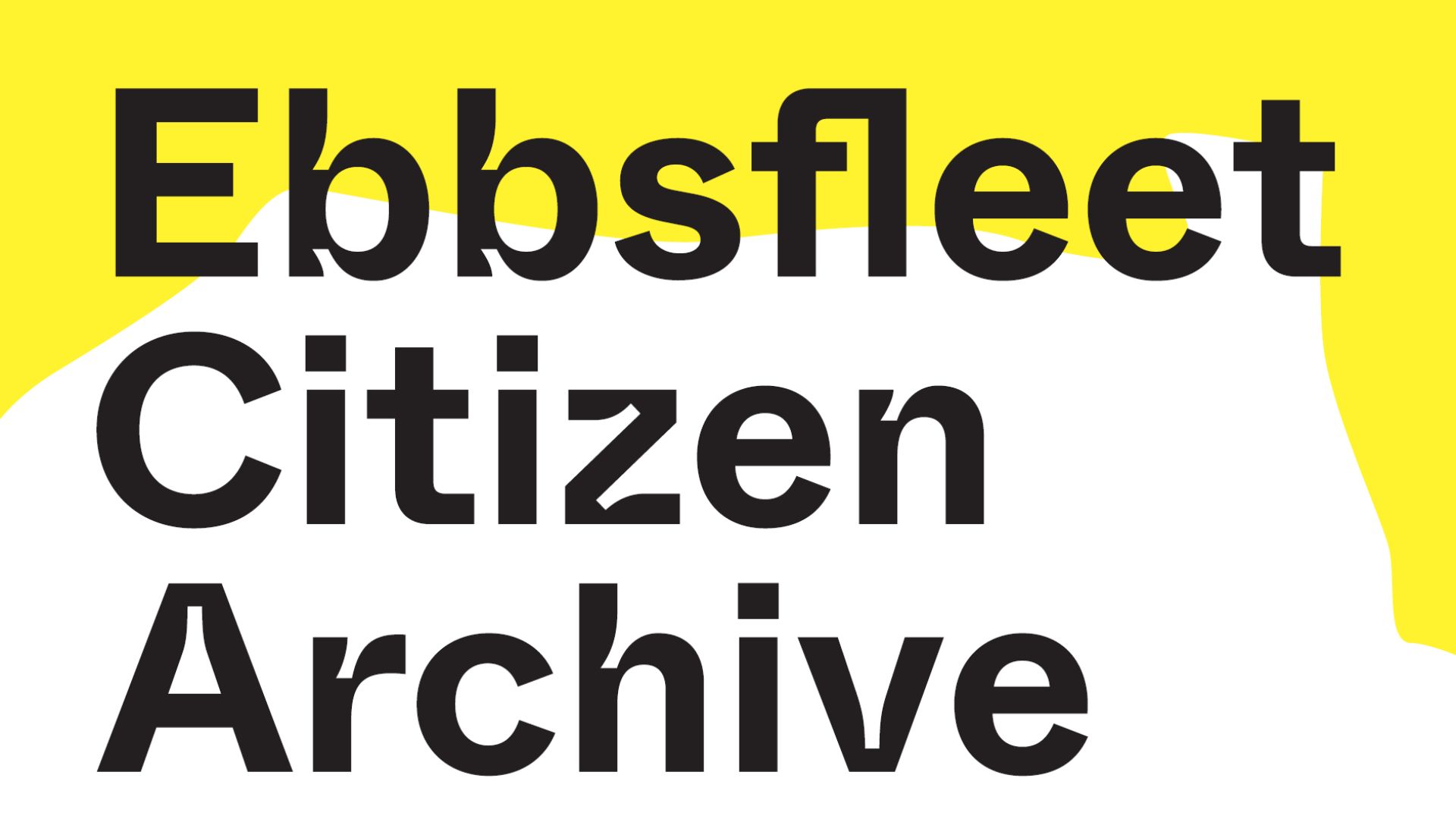 Ebbsfleet Citizen Archive
The community-led project, led by Cement Fields in partnership with Ebbsfleet Development Corporation, captures and preserves the varied stories and histories of the people and places of Ebbsfleet, Greenhithe, Swanscombe, and Northfleet.
Collaborate with artists, historians and fellow residents, to explore the area's unique historic and contemporary identity through objects, sounds, videos and photographs, collected by and from residents past, present and future.
The story so far…
Whitstable Biennale 2018 satellite events

I Hear Horses: A performance walk led by artists Sally O'Reilly and James M'Kay. Participants scoured the Swanscombe Peninsula for signs of animals wild, thoroughbred, symbolic, and extinct, linking past, present and future together.

A Dotted Line Across The Map: Artist duo Webb-Ellis invited participants to join them on a thoughtful performative stroll through Ebbsfleet, a march through its history, and a reckless leap into imagined futures of this new development at the 'edge' of England. The walk explored ancient and contemporary ideas of home, community, fear and belonging, in the shadow of Brexit.

The Gathering: create, grow, thrive

From September 2018 to March 2019, three community art projects and a celebration event were commissioned to explore, health, wellbeing, food, belonging and identity through creativity:

Area Art Archive: History is not something that happens to us, it is something we shape. Art is not simply something we view but also something we influence. Multi-media artist Siobhan Schwartzberg worked with local history and church groups to focus on how everyday lives shape local history and how we can use that knowledge to create art that reflects us.

The Gathering: create, grow, thrive

Chalk and Cheese: A project led by artist and cheese monger Esther Collins. Esther met with people in Castle Hill, Northfleet and Greenhithe using cheese tasting as a starting point for conversations about skills and interests in arts, crafts, and food. A way of bringing members of different groups together, the project also involved a trip to Blackwoods Cheese Company to see the dairy, the cows and learn how cheese is made.

Tales and Tastings: Artist, Curator and Writer Nicole Mollett collected recipes and food stories from Swanscombe, Northfleet and Ebbsfleet. Nicole led drawing workshops at Ebbsfleet Academy and The Craylands School. She collected personal food stories from local community groups, senior lunch clubs, and individual residents. The final collection of drawings, recipes and texts were presented in a beautiful book.

The Gathering event

The Gathering was the first major creative event for Ebbsfleet which showcased the community projects and offered local people the opportunity to have a go at drawing, sculpture, printing, dhol drumming, bhangra dancing and aerial acrobatics, whilst also sharing ideas for the types of creativity they would like to get involved with. Over 500 people came to the event at Manor Community Primary School in Swanscombe.

What is your ideal place?

Using imagery from the Healthy New Town Landscape Design Challenge in 2019, an exhibition was designed and installed at Bluewater to ask people 'What is your Ideal Place?'.  Over a three week period, 300+ postcards were filled in and submitted; 40,000 iPad views; over 12,000 views across online platforms and over 1m people visited Bluewater over the exhibition period. The interactive exhibit generated valuable information on the sorts of facilities, spaces, events and activities people would like to see developed as part of Ebbsfleet Garden City.

Think-Up!

In Autumn 2019, EDC partnered with local cultural organisation LV21 and Royal Opera House Bridge to connect children and young people, schools and communities, with art and cultural opportunities in the area. Part of the process evaluated opportunities for an ongoing cultural education partnership to strengthen cultural education infrastructure across Gravesham and Dartford.  The Covid-19 pandemic cut short direct delivery in schools, but the work continued with artist workshops online and over 600 creative packs delivered to families via schools and community groups.

The Monsters – online story telling / animation project

During the Covid-19 lockdown Blueprint Arts led on the development of a community animated film. The story of 'The Monsters' grew organically with children and their families, with each telling and recording a line of the story before passing it on to another family. Children also contributed drawings which were animated to bring the story to life.

Winter Gathering

February 2020 attracted 500 local residents from Ebbsfleet and neighbouring communities to come together in a celebration of light. The event was produced and co-curated by local cultural organisation LV21 in collaboration with local schools and community groups. In the lead up to the event, local residents were asked 'what's great about my community?' and the Vox Pop soundbites were used to create a soundscape which was played at the event within an illuminated garden

PlaySpace August to December 2022

The Northfleet Play Space project was a partnership between Northfleet Big Local and University of Kent with funding through EDC's Community Investment Fund.  The Programme included six workshops which were delivered across Northfleet North, Cable Wharf and Ebbsfleet, attracting 124 resident participants. The aim of the project was to use play workshops to stimulate community cohesion and improve wellbeing as well as an aim to continue community engagement to gather feedback for further improvement in wellbeing and community integration in Northfleet North. Evaluation by University of Kent concluded that public play is a valuable resource to improve community wellbeing, for de-stressing, building confidence and having fun together.

Fusion Festival

Produced by Cohesion Plus and Blueprint Arts

Ebbsfleet Development Cultural Development Manager, Laura Bailey, has said of the programme: "Fusion Festival is part of our wider programme of activities taking shape in Ebbsfleet, which aims to empower residents and community members to get involved in activities on their doorstep and play an active role in shaping the growing community."

Springhead Magical Winter Garden

Produced by Cohesion Plus and Same Sky, the event – in Penn Green Park on the Springhead Park development in Ebbsfleet, hosted a series of installations and performances inspired by light including the Show Globe – a life-sized snow globe which will float across the park – stilt walkers and music from around the world.

Event producer Gurvinder Sandher, from Cohesion Plus, said: "The Magical Garden has been designed to be enjoyed in a safe way by families and I hope those living in the vicinity of Penn Green Park will come out and support the event. January can often be a bleak month. This is our way of introducing some colour and joy into proceedings and hope this is the start of a proactive and positive relationship with the communities of Ebbsfleet."

Creative Estuary supported projects 2019-2023

Ebbsfleet Development Corporation is a key partner in the Creative Estuary programme which is delivering the Thames Estuary Production Corridor Vision across North Kent and South Essex. The partnership with Creative Estuary has been to support our vision for co-locating creative and cultural facilities across the Ebbsfleet development. The Cultural Co-location programme (with investment from the DCMS Cultural Development Fund) was delivered through four major commissions: 1&2 looked at cultural infrastructure opportunities including meanwhile, through co-design, which can be read about here (link to vision section). 3&4 were in support of our vision to develop a community-led approach to cultural programming, to develop life and work skills through culture and to continue our commitment to the creative health agenda.

Cloud 9 Creative Wellbeing Festival

Produced by Ruby Baker of POP and Jane Packham of Social Storytellers and presented by The Grand Healthy Living Centre, Cloud9 was commissioned by EDC and Creative Estuary and it received funding from Arts Council England. Cloud 9 aimed to use culture and creativity as the fundamental tools to bring communities together and positively impact on people's physical and mental health and wellbeing. A series of workshops, classes and projects culminated in a festival day in summer 2021.

The Creative Exchange March 2022 to March 2023

The Creative Exchange was a pilot programme of pop-up projects led by local residents and community groups working with artists and cultural professionals. It included training for artists who wish to develop their practise to be more community-led and for residents and community groups to learn about producing events. A new Cultural Forum made up of residents has grown out of this project and continues to meet monthly.

Fiesta Latina

Hosted at Eastgate Community Centre at Springhead Park, Fiesta Latina was the first big event planned, produced and delivered by members of the Cultural Forum in November 2022. The South American theme was chosen by the group and over several weeks, members each took responsibility for different parts of the event such as marketing, catering, artists and entertainment based on their strengths and what interests them.  The event was a celebratory evening of South American culture including a tasting menu, salsa and capoeira classes, music, an art exhibition and an amazing Samba band performance. The event was a huge success, with over 200 people attending.

Tales of the Lost Worlds March 2023

The Creative Exchange programme culminated in an immersive treasure hunt across 4 locations on 25th March 2023.  The event was developed, produced and delivered by the Cultural Forum to celebrate the diverse cultures of Ebbsfleet and surrounding communities. With interactive characters, live performances, treasure hunts, and exciting workshops, residents were immersed in mystical folk tales from across the globe.  The multi-venue event was also a response to feedback about events taking place across Ebbsfleet and surrounding neighbourhoods.

This Must Be The Place

This Must Be The Place is a pioneering three-year partnership between Ebbsfleet Development Corporation and Cement Fields. A creative placemaking programme of research, artists residencies, and co-commissions created collaboratively with young people from Ebbsfleet. The programme creates tangible opportunities for young people to develop as their own cultural and civic leaders and enables them to ask questions, challenge and shape ideas connected to the design and build of the new city as it evolves. For more information visit thismustbetheplaceebbsfleet.org

Cultural Placemaking Showcase

An array of partners, residents, EDC staff and funders came together on Thursday 18th May for a Cultural Placemaking Showcase in Castle Hill Community Centre. The event was organised by the Placemaking Team to reflect on the past 5 years, celebrate the successes and the challenges and express ambition for the future. Through talks, film and performance, the event demonstrated how the cultural programme has grown from initial seed funding for small projects to a highly regarded, long term strategy and investment to embed culture and the creative industries.

The event was structured around the 3 priorities in Ebbsfleet Development Corporation's Culture Vision. Partners and residents who have shaped and delivered projects and events against each strategy area, spoke about their experiences. The event was attended by Ebbsfleet Development Corporation Chair Simon, and by Sir Nicholas Serota, Chair of Arts Council England.

Fusion Festival

Building on last year, the event will host a 'Big Tea' celebration, raising money for Valley Hospital Charity as part of the NHS's 75th birthday.

Creative director of Cohesion Plus, Gurvinder Sandher, said: "The arts are a great way to connect people, and with this family-focused festival we will have lots of activities and entertainment planned for everyone to enjoy.

Ebbsfleet's latest community celebration, with a bake sale raising funds for Valley Hospital Charity in aid of #NHS75